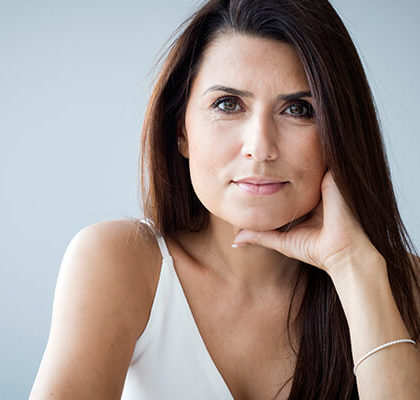 Body Sculpting with TruSculpt 3D®
Some areas of the body just seem to attract fat. The midsection, buttocks, hips, and thighs may begin to sport rolls and bulges even if the number on the scale doesn't show much movement. Even worse is the fact that these problem spots don't always respond to exercise and diet, leaving you with a less-than-desirable body contour and a blow to your self-confidence. When you can't get rid of isolated pockets of fat through your efforts, there is another solution that is relatively quick, effective, and noninvasive.
TruSculpt 3D® is the latest nonsurgical, no-downtime procedure that's been proven in clinical studies to treat isolated areas of lingering fat that are resistant to diet and exercise. This treatment uses radiofrequency energy to melt unwanted fat cells so that they over time can be eliminated through the natural processes in the body. Since the RF energy targets the cells themselves, the surrounding skin and tissue remain undamaged throughout the process. In fact, the heating mechanism can actually be beneficial to the dermis, leading to the firming of the treatment area for an even smoother result.
A New Approach to Stubborn Fat
In the past, the only way to address stubborn areas of fat was through surgical procedures such as abdominoplasty and liposuction. While these procedures were – and continue to be – useful for some patients, they also require anesthesia, incisions and a recovery process afterward. There are risks related to any type of surgery and potential complications if the recovery process doesn't go as planned. Today, our patients can forgo surgery, related risks, and residual scarring in favor of cutting-edge procedures that offer outstanding results to the right individual.
TruSculpt 3D® is one of those procedures that allow our clients to enjoy cosmetic enhancement without surgery. This energy-based procedure delivers controlled, comfortable doses of therapeutic heat to the target zone, eliminating fat cells while firming and smoothing the area over time. The heat penetrates deeply into the tissue where it has the most significant effect without burning or otherwise damaging the area.
Because the body eliminates fat cells over time, your results develop gradually. You might look like you spent some extra time at the gym rather than undergoing a cosmetic procedure. Because fat cells are eliminated, the results of your TruSculpt 3D® treatment will last indefinitely as long as you maintain a healthy weight.